Quicksilver Activ OPEN Series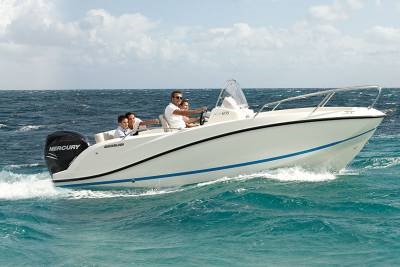 The moment you look at a Quicksilver Activ you know that it's pure fun.
It's about fluid yet solid forms with soft lines and sharp, cut-through shapes creating dynamic, sporty tension that says it's playtime. Purposeful designs still true to the essence and character of the original sketches; that spontaneous spark of inspiration.
Creativity founded on experience, considered development and insight gained through solid research into the needs and desires of boat users resulting in a a range of boats that offers you true freedom with the reassurance of structural and engineering integrity.
Everything underpinned by safety, comfort and versatility. So you can fish, water ski, or just soak up the sun with complete peace of mind. And with ease.
This is Quicksilver Activ. Built on understanding. Shaped by you. Created for escape.
FREEDOM TO PLAY - AWARDED EUROPEAN POWERBOAT OF THE YEAR 2011

Open up to a world of escape and fun. With clever use of space and a well thought out layout plus on-board comfort surrounding you, this is a boat that switches from water sports to cruising to light fishing with ease so that you can truly enjoy all the freedom of being on the water. And you can do it with even more style on board with the striking Sport edition.Price:from 19,439( 22,938) - Price includes VAT at 20.0%Location:Scarva, Co. Armagh, Northern IrelandBOATONLYPRICE Contact us for the l...

More Info

FUN PACKED

Pleasure seekers wont hesitate to take to the water in the Activ 605 Open. Opportunities to have fun abound and its the ideal choice for light fishing, water sports or simply soaking up the sun. It also comes with some of the award-winning features of the Activ 675 Open, Powerboat of the Year 2011, such as easy sun lounge conversion and intelligent use of space. Its no surprise the Activ 605 Open makes best in category for storage capacities, largest carrying capacity and best access from water ...

More Info

MAKE THE SEA YOUR PLAYGROUND

On the Activ 555 Open you can enjoy all the fun and freedom of being on the water with complete ease knowing that this is a versatile, solidly designed boat with plenty of walk-around space and safety features making it perfect when children are on board. From relaxing in the sun to catching fish, everythings simple.Price:from 12,973( 15,308) - Price includes VAT at 20.0%Location:Scarva, Co. Armagh, Northern IrelandBOATONLYPRICE Contact us for the latest Package OptionsEuro () price is for guida...

More Info