Quicksilver Activ CABIN Series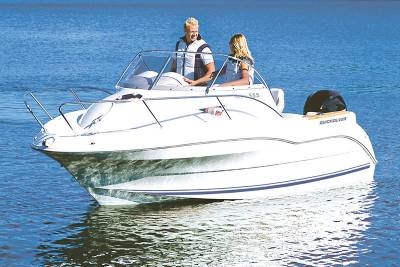 The moment you look at a Quicksilver Activ you know that it's designed for pure fun.
It's about fluid yet solid forms with soft lines and sharp, cut-through shapes creating a dynamic, sporty tension that says it's playtime.
Purposeful designs still true to the essence and character of the original sketches; that spontaneous spark of inspiration.
Creativity founded on experience, considered development and insight gained through solid research into the needs and desires of boat users resulting in a range of boats that offers you true freedom with the reassurance of structural and engineering integrity.
Everything underpinned by safety, comfort and versatility, so you can fish, water ski, or just soak up the sun with complete peace of mind.
And with ease. This is Quicksilver Activ. Built on understanding. Shaped by you. Created for escape.
THE PERFECT ALL-ROUNDER

Whether youre a seasoned lover of the cruising lifestyle or youre just getting into it, the Activ 555 Cabin offers everything youre looking for in a perfectly balanced all-rounder. The wide beam opens up all the versatility and freedom needed to create surprisingly spacious room in the cockpit as well as sleeping accommodation below deck in the bright, airy cabin. Throw in a sun pad to lay back and relax on and youre all set to enjoy plenty of fun on the water.Price: from 18,079 ( 21,333) - Pric...

More Info

THE ACTIV 505 CABIN IS OUR LATEST ADDITION FOR DAY CRUISING

The new Activ 505 Cabin offers one of the best all-round boating and navigation experiences in its class, integrating a stylish new design and packed with improved new features that guarantee a new level of safety and pleasure for a day on the water....

More Info