Quicksilver Captur PILOTHOUSE Series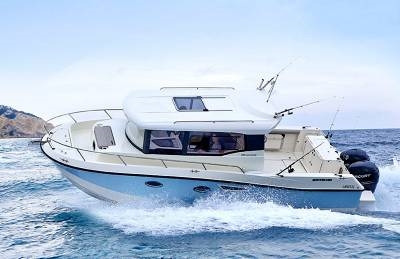 Welcome to the Captur Pilothouse range from Quicksilver.
Captur Pilothouse gives you the freedom of the water, the freedom to fish and the freedom to be spontaneous. Perfect for friends and serious fishermen – they offer everything you could need and more.
From day trippers to overnighters, these boats let you seek out life rather than just let it happen – to enjoy life to the full: carefree and worry-free. Boats with all the power, comfort and practicality to get you out there. Life is more fun when you remove the obstacles. Life is for living, for remembering.
It's a journey.
Seize the moment.
THE PERFECT MIX FOR FISHING AND CRUISING COMFORT

The days you had to choose between comfort and performance, between fishing and cruising are gone. With the 905 Pilothouse you can have both! Designed without compromise for fishing, adventure fun, and all in perfect safety and comfort. The 905 Pilothouse is suited for offshore cruising (category B) and carries up to 10 people. It features a comprehensive fishing station, as well as overnighting capacity for up to 6 persons. Performance is safe and agile thanks to the Mercury engine offering, a...

More Info

WHERE SERIOUS FISHING FAMILY FUN ARE ALL IN A DAYS PLAY

A fishing trip is never going to be a rough and ready affair in this addition to the Pilothouse range. Combining the best fishing equipment package with a full interior double berth, the 755 brings fishing aficionados a real touch of luxury along with all the practical touches the seasoned sailor would expect. Boasting the largest HP range, with single engine up to 250hp youll be enjoying both speed and power....

More Info